Atzori mosaici
Allow us to introduce ourselves, Marco and Iolanda of Atzori Mosaici – bringing passion and precision to the installation of art mosaics and traditional mosaic surfaces since 1995. Italy's most prestigious mosaic tile companies, including Bisazza, Trend and Sicis, and the top suppliers of screeds, sealants and adhesives, such as Mapei and Kerakoll, are essential partners in our activity and a further guarantee of the technical excellence and aesthetic quality of our mosaic surfaces.
We work nationwide in Italy and throughout Europe and, with a portfolio of more than 300 successful projects, we operate in partnership with architects and construction companies and also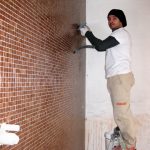 provide expert consultancy for private citizens seeking bespoke services to create their home environment independently.
Atzori Mosaici provides free quotations and advice to solve problems in mosaic laying, repair of damaged surfaces or simply to remediate incorrectly laid surfaces.